Organisation for training and occupational safety awareness
Poisson Formation offers a wide range of short and medium-term training courses for the professions in the construction, public services and industry sectors. These training courses are intended for both professionals and private individuals, whether they are new to the sector or in need of upgrading / re-training. Whether the objective is to bring employees up-to-date with regulatory obligations or help them develop their skills, Poisson Formation can provide all types of training: electrical installations, equipment operating, safety and accident prevention, and industrial railway siding operations.
AIPR – Autorisation d'Intervention à Proximité des Réseaux (Accreditation for Intervention in the Proximity of Networks)
The AIPR is a proficiency accreditation, obligatory since 1 January 2018, for staff working in the vicinity of networks. The aim is to reduce risks and damage that can occur when works are carried out near overhead or underground networks.
Operating professional machines and equipment (operator proficiency/CACES® – Safe Driving/Operating Proficiency Certificate)
These training courses ensure compliance with the legal requirements for operating mobile self-propelled machines or lifting equipment, and can help prevent serious accidents.
« Expert machine driver-operator » series :
Electrical installation
Correct and up-to-date qualifications are essential when working on or around electrical installations. Poisson Formation offers the following training programmes for electrical qualifications: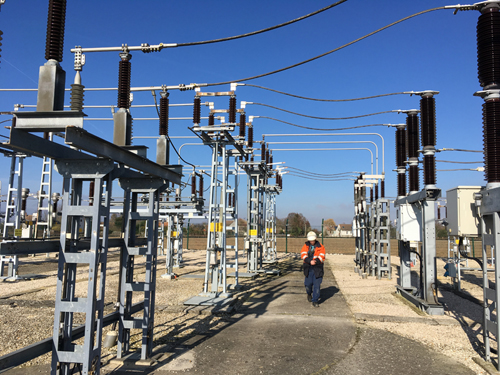 Safety and accident prevention
Poisson Formation provides training courses for safety and accident prevention in the workplace or on construction sites (OHS, fire, movements and postures) :
Industrial railway siding line operations
The aim of this training course is to confirm the trainee in his job, whether relating to shunting, switch operating, engine driving, freight wagon coupling, or any other locomotive operations.
The Poisson Formation instructors are all highly experienced in their particular fields. Expertise in their respective professions, and knowledge of and familiarity with the associated machines and equipment enable them to guide and assist throughout the training period. They are attentive to the needs of the trainees, advising and giving useful tips at the same time as the essential theoretical and practical training.
Depending on requirements and constraints, the training courses can take place either at the workplace or in one of the Poisson Formation training centres.
Poisson Formation has a very large fleet of machines which enables its instructors to carry out their training sessions directly on the various types of equipment concerned.
AIPR (Accreditation for Intervention in the Proximity of Networks)
Poisson Formation is certified as an A.I.P.R. examination centre by the French Ministry of the Environment, Energy and the Sea.
The AIPR accreditation is a regulatory obligation under article 22 of the decree dated 15 February 2012, amended for the carrying out of works in the vicinity of certain underground, overhead or underwater transportation or distribution networks.
Since 1 January 2018 employees are obliged to hold an AIPR accreditation, which is issued by the employer after he is satisfied that the worker has acquired the necessary skills, validated by a multiple choix type exam.
Period of validity : 5 years
Those concerned : driver-operators, Those concerned: driver-operators,
For 5 years now our trainees have been unanimous about the high standard of the instructors working in Poisson Formation! They are truly knowledgable about their professions and the equipment used, both of which are essential prerequisites for quality training, but they are also very attentive and patient with the trainees.
Elisabeth ANTOMARCHI, Manager in charge of training at SEMANAZ
There are four Poisson Formation centres:
Gretz-Armainvilliers, in the Paris region
Grand-Fougeray, between Rennes and Nantes
Roquemaure, close to Avignon
Brillon, in the Nord department, on the Belgian border
Poisson Formation
ZI Ampère
54 rue de Maison Rouge
77220 Gretz-Armainvilliers
France
Tél. +(33) 01 64 42 59 50