Public works construction machine rental with driver-operator
Since 1970, Morel has been renting out machines with driver-operator for use anywhere in France. Its expertise and success are built on a varied fleet of machines, upgraded on a regular basis, which is capable of meeting the most specific needs. But just as important are its driver-operators, who are all highly experienced, versatile and responsible, and who are trained regularly to meet the changing needs of the business.
The fleet of machines covers a wide range of applications and a suitable machine can be found for any type of construction site. Each machine has a particular usage, and each task its particular machine.
Earthworks
Machines:

 

standard and specialised excavators (high-reach and crawler/chameleon, …), track loaders, dumpers, dozers, compactors, etc
Attachments:

 

grade control systems, grab buckets, ripper teeth, long-reach booms …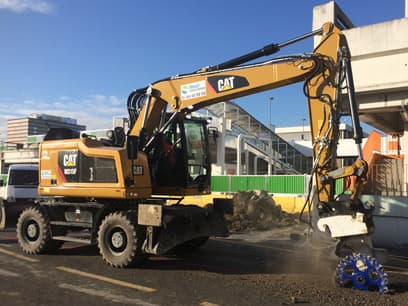 Demolition
Machines:

 

hydraulic excavators, track loaders, etc
Attachments:

 

hydraulic breakers, concrete cutters, concrete crushers….
Public parks and gardens
Machines:

 

Mecalacs, excavators and mini excavators, etc
Attachments:

 

screening buckets, grab buckets, tilt buckets, rotating heads, forks…
Foundations
Machines:

 

standard and specialised excavators, mini excavators, track loaders,etc
Attachments:

 

long-reach booms, grab buckets, grinding/milling/drilling tools, ripper teeth….
External works, installation of roads and associated services
Machines:

 

Mecalacs, wheel excavators and hydraulic excavators, track loaders, etc
Attachments:

 

tilt buckets, forks, rotating heads, grab buckets,…
Based in Gretz-Armainvilliers in the Paris region, Morel focuses on reactivity, professional service and customised solutions to meet the demands of both very small companies and large groups for the rental of equipment with driver-operator. Client satisfaction is a major concern, and in order to achieve this Morel is committed to keeping pace with technology by renewing its fleet with ever more efficient machines and accessories (grade control systems, weighing devices, Rototilt equipment) and by keeping its driver-operators up to date with regular training.
Morel also rents out equipment for short periods, and without driver-operator. More information is available on request.
Reactivity
Readily available high quality machines
Multi-functional driver-operators
High quality technical monitoring and maintenance
France and neighbouring countries
'Chameleon' crawler excavator
Equipped with a telescopic boom, the chameleon excavator is capable of descending vertically to 30m depths. The operator cab, mounted on rails, offers an excellent view over the excavation area through its glazed floor. This machine will handle perfectly the clearing away of material from sites where excavations reach great depths.
Technical specifications:
Excavation up to a depth of 25 metres
Support/Base machine: HITACHI ZAXIS LC 330
Weight: 45T
Telescopic boom
1300L grab bucket
Rapid bucket turn-round time
Rail-mounted operator cab
Morel is based in Gretz-Armainvilliers, Seine-et-Marne (77).
Morel
ZI Ampère
54 rue de Maison Rouge
77220 Gretz-Armainvilliers
France
Tél. +(33) 01 64 42 59 59